Understanding Your Electric Bill:  August 2022
Wheat Belt's cash budget is roughly $23 million dollars annually. This $23 million is comprised of the following:
Wholesale Power Cost - $13.5 million (

59%

) 

General Electrical Plant Maintenance (current) - $2.8 million (

12%

)

Investment in Electrical Plant (future) - $3.9 million (

17%

)

Administration - $2.8 million (

12%

)
As a public power district, we are a subsidiary of the state of Nebraska. Therefore, we operate independently as a non-profit organization governed by our seven-member board of directors who are elected via ballot in the general elections. As a subsidiary of the state, we are a public owned entity that does not have investors to satisfy – this is how we can keep rates as low as possible. Essentially the rates you pay go to wholesale cost of power, general electrical plant maintenance, investment in the electrical plant, and administration. It is the board of director's and management's job to ensure the district is being a good steward of your money – for ratepayers today and in the future. 
Budget
Typically, each year we start the budget cycle which begins in August and ends in December. We consider large impacts to the budget such as changes to wholesale power costs, planned improvements to the electrical system and wages (these three items make up 83% of our cash budget). From there we spend time developing a budget based on historical spend, known changes and inflation.
This year, we are implementing a new budget process. One that builds from the bottom up, as opposed to a top-down approach. Power costs, investments to the electrical system and wages will continue to be our largest budget items. However, a bottoms-up approach will force us to look at expenses differently through justifying expenses rather than continuing to budget for something because we always have.
Our mission is to deliver electricity safely, reliably, and efficiently. This is one way we can analyze our efficiency and really look at how we are spending each dollar you send our way by being good stewards of your money.
Cash
A lot has changed at Wheat Belt in the past few years. We have several new faces on the Board of Directors. We have a new general manager, and we went from five senior manager positions to four senior manager positions (of the four, two are new to that role). With changes, we look at things differently…we have to because we are learning every day, asking questions, and seeking understanding.
Here's one thing we have learned: over a decade ago we had a lot of money in the bank…you could argue too much. So, to keep rates as low as possible we intentionally started to spend down our cash reserves. We did so effectively, spending our cash down to the minimum threshold per board policy. Once there, we adjusted rates slightly (2018 and 2021 rate increases totaling a 4% compounded rate increase). However, rates continue to be subsidized, meaning that over the past few years we have been borrowing more money to cover our capital purchases. What this means is customers 20-30 years from now will be paying for current customers' share of today's electric service. This is a decent short-term strategy, especially since interest rates were so low, however this is not a sustainable long-term strategy. Which brings us to the next point – Cost of Service.
Cost of Service
A cost-of-service study uses data such as energy usage, wholesale power costs, operating expenses, financial statements, installed electrical plant and forecasted information to guide rate design. The data is placed into a model and financial metrics (debt service coverage, times interest earned ratio, equity as a percent of assets, cash reserves, etc.) are used as levers to design rates.  Once the data runs through the model and the Wheat Belt Board of Directors and management has provided the targeted financial metrics, the cost-of-service analysis is prepared (calculating the cost of service for the type of retail rate – small power, commercial, irrigation, etc.). From there, rates are designed and presented for review and approved by the Wheat Belt Board of Directors.
Next Month
In September, we will be digging into wholesale power costs. Stay tuned to learn more.
Wheat Belt's wholesale power supplier is Tri-State Generation and Transmission headquartered in Westminster, CO. In the corresponding graph, you will note that our power consumption (kilowatt hours) triples in the peak summer month compared to our lowest winter month. Our customers drive wholesale power costs by how much energy is consumed and when it is consumed (power is less expensive at night and in the morning).
Last month we told you our wholesale power costs are about $13.5M/year. There are two components of this bill:
Demand (kilowatts) – the amount of energy required at any point in time. Think about the size of transformers, some are small and some are large. Accounts for 46% of the wholesale power bill.

Energy (kilowatt hours) – cumulated kilowatts consumed over time. Accounts for 54% of the wholesale power bill.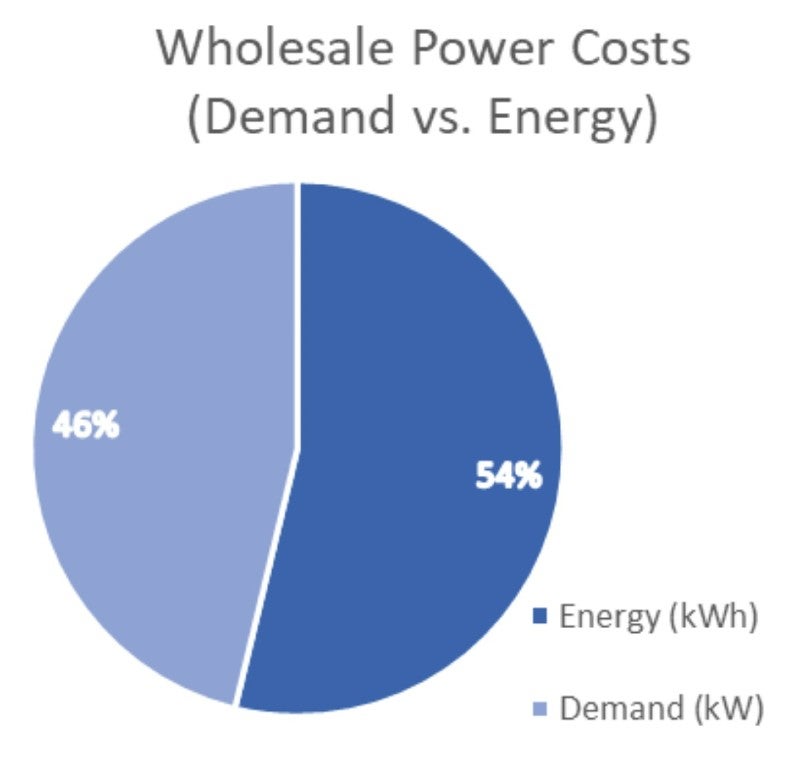 Not all energy costs the same. At night and early in the morning energy is less expensive because there is much less demand. Wheat Belt has some time-of-use rates where consumers are in control of their electricity cost based on when energy is consumed.
On average, irrigation customers on time-of-use save $3,100/meter each irrigation season. Call our office to learn more.
In August, we told you that we spend $2.8 million a year on general electrical plant maintenance and $3.9 million in investment into the electrical plant. What's the difference? I'm so glad you asked.
General Electrical Plant Maintenance – after hours outage restoration, fixing broken crossarms, replacing old/broken insulators, repairing/replacing groundlines on poles, repairing a neutral line that was torn down. Delivering electricity safely today.

Investment in Electrical Plant – new line build, transformer replacements, rebuilding old line, large storm damage repair, and all capital expenses to support these projects (bucket trucks, digger derricks, etc.). Ensuring safe and reliable delivery of electricity for years to come.
This table shows how dollars are spent each year to invest in the future of the electrical plant. This includes major projects, such as the new Automated Meter Infrastructure project which we are currently in year five of five.
GENERAL PLANT MAINTENANCE PER YEAR

 

 

Wage/Benefits

$1,300,000

Principle & Interest

$925,000

Fuel & Vehicle Expensess

$275,000

Hardware & Misc. Expenses

$200,000

Contract Services

$100,000

Total

$2,800,000
In this table, you will find a breakdown of how dollars are spent to maintain the line each year. This includes principal and interest on long-term debt – which is essentially the current cost of past investment into the plant.
INVESTMENT IN PLANT PER YEAR

 

 

Wage/Benefits

$1,350,000

Substation & Equipment

$850,000

Poles

$600,000

Meters

$300,000

Vehicles & Equipment

$300,000

Transformers

$125,000

Wire

$200,000

Contract Services

$175,000

Total

$3,900,000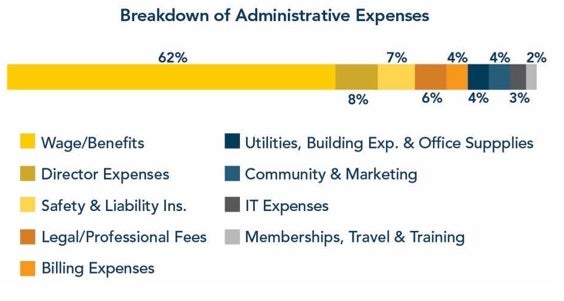 Over the past few months, we have covered the cost of electric service. This included items such as wholesale cost of power, poles, wire, transformers, meters, wire, vehicles and equipment, contract services, and wages/benefits associated with these items. This month, we will cover administrative expenses.
Administrative expenses include wages and benefits for the following areas: management, accounting, billing, customer service, marketing, metering, and affiliated organization expenses. Additionally, Board of Director expenses, safety and insurances will be covered this month. Each year roughly $2.8M is spent on administrative expenses. In the graph you can see how that money is spent.
Board of Director Expenses – Wheat Belt has a seven-member Board of Directors, and their expenses include per diem (governed by state statute), health insurance coverage (which is typical in the rural electric industry and governed by state statute), and travel and training expenses.
Safety and insurances: safety training and District wide liability insurances
Legal/Professional Fees: general counsel, specialty legal counsel, regulatory compliance, and other professional consulting fees.
Billing Expenses: printing and mailing statements and general financial, accounting, and cashiering.
Utilities, Building Expenses and Office Supplies: Operating and maintaining our facilities and general office supplies.
Community and Marketing: energy efficiency rebates, scholarships, safety fairs and participation in community events.
IT Expenses: all IT expenses less than $1,500 per items (hardware, software, iPads, etc.).
Memberships, Travel & Training: affiliated organizations, travel to attend associated organization events and employee development.
Wheat Belt PPD hopes this information has been beneficial. Next month we will be communicating 2023 rates as a result of the cost-of-service study and financial goals we are working towards to ensure we continue to deliver electricity safely, reliably, and efficiently for generations to come.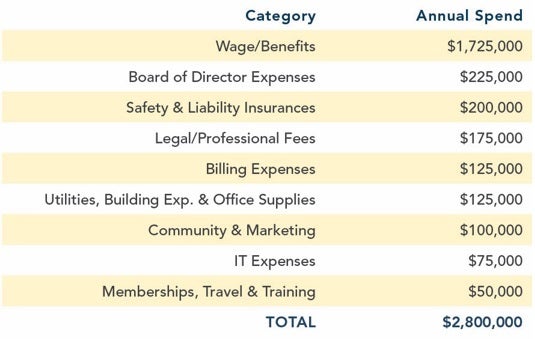 December 2022 Content
Over the last several months we've broken down the many influences that factor into your electric bill.  This month we're taking a step back to highlight what we've covered since August.
The Board of Directors and management of Wheat Belt PPD work diligently each year to keep our rates affordable, while delivering your electricity safely, reliably, and efficiently.
BUDGET AND COST OF SERVICE:
We began in August by explaining how our budget is determined and introduced our new bottom-up approach that will force us to justify expenses rather than continuing to budget for something because "we always have."  Power costs, investments to the electrical system and wages will continue to be our largest budget items with wholesale power costs accounting for 59% of our $23M cash budget.
COST OF POWER:
With that in mind, in September we dug into power costs.  Tri-State Generation and Transmission has been our reliable wholesale power supplier since its inception in the early 1950s.  Wheat Belt is in an all-requirements contract with Tri-State, meaning we pay Tri-State to supply the power we need.  We also have the flexibility to generate 5% of our own power supply.
ELECTRIC PLANT MAINTENANCE AND INVESTMENT:
In October we explained the difference between the $2.8M that is dedicated to general plant maintenance and our $3.9M in investment into the electrical plant.  Both expenditures work together to deliver electricity safely today while ensuring safe and reliable energy for years to come.
ADMINISTRATIVE COSTS:
Finally, in November we talked about our administrative expenses and how that budget is distributed.  The bulk of our $2.8M administrative budget includes wages and benefits for our staff, director expenses, safety and liability insurance, legal and professional fees, and billing expenses.  Additionally, utilities, building, office supplies, marketing, IT, travel and training are included in our administrative budget.
2023 RATES:
To view the 2023 rates that were determined using our Cost-of-Study conducted in 2022, go to the rates tab, or contact our office.